Due to icy roads conditions, an Alabama school had to delay opening one morning. And that led to staffers announcing that they would not be able to serve breakfast to the kids. However, one bus driver was not about to let his students go through their school day while hungry.
Wayne Price had already picked up a lot of the students on his route so when the school announced that there wouldn't be any time for breakfast, Price purchased 50 McDonald's breakfast biscuits for his young passengers.
The school later made a Facebook post to highlight their driver's good deed, saying: "Mr. Price, one of our bus drivers, truly demonstrates the spirit of Christmas!
"On Tuesday, when school was delayed due to icy roads and we weren't able to serve breakfast, he purchased biscuits from McDonald's for his entire bus of students! What a kind act that our students will forever remember! Thank you, Mr. Price, for making a lasting impact in the lives of our students!"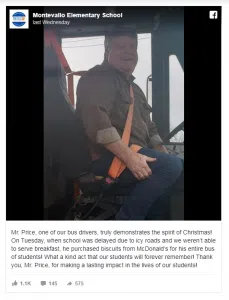 Though most people say that "laughter is the best medicine", young hospital patients often find more joy in a wagging tail. So as a means of providing happiness and healing to thousands of pediatric patients, Dunkin' Donuts and Baskin-Robbins are spending $2 million to bring full-time therapy dogs into American hospitals.
The Joy in Childhood Foundation, the independent charity that is powered by the two restaurant chains, is launching Dogs for Joy, a program to bring in-residence pups that are bred and trained as service dogs to "work" full-time in children's hospitals across the nation.
The dogs will offer distraction, motivation and joy to patients and families while simultaneously lowering stress and anxiety for pediatric patients and encouraging them to complete their health care goals.
This type of in-hospital program is relatively new, and out of more than 220 children's hospitals in the United States, very few have them. The groundbreaking Dogs for Joy initiative will provide grants to launch a new in-residence dog program or maintain an existing one, covering costs like adoption fees, staff training, and canine care supplies like food, grooming tools, and toys.