The Medicine Hat Tigers have released the totals from this year's Teddy Bear Toss.
During Saturday's game against the Lethbridge Hurricanes at the Canalta Centre, a total of 1,990 stuffed animals and 1,080 winter wear items (scarves, toques, mittens) were thrown onto the ice after James Hamblin scored during the first period.
According to a release sent by the team, the items will be split between the Medicine Hat and District Health Foundation, the Medicine Hat Women's Shelter Society and the local chapter of the Salvation Army.
In the release, the Tigers thanked the fans who attended the game, and they also thanked the Medicine Hat Peewee Wildcats, who helped collect the bags of items off the ice.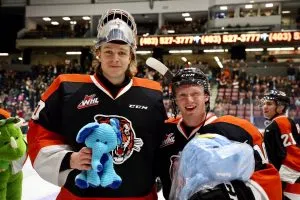 In a bid to get children more engaged in reading, a New York school has installed a vending machine that dispenses books, instead of snacks.
After one year of fundraising, staffers at the Arthur O. Eve School of Distinction #61 in Buffalo, New York, unveiled the machine in the corner of their library and stocked it with $1,000 worth of books.
Students from kindergarten through 4th grade can earn free tokens for the machine with a classroom rewards system that will encourage kids to make regular trips to the library and check out books. The book titles range from fiction to cultural subjects.