Christmas came early for some Pennsylvania Walmart customers. The Kennet Square Walmart store confirmed that an anonymous benefactor paid off $29,000 worth of layaway items. Walmart released a statement saying, "When customers quietly pay off others' layaway items, we're reminded how good people can be….We're honored to be a small part of these random acts of kindness."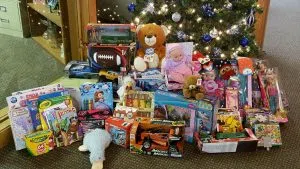 When you think of heavy metal bands, you likely think of long hair, tattoos and loud music. And that's all true, but one band in particular has also been giving back to the cities they visit on tour.
Metallica is a world famous band and have not only been bringing good times to their fans at their concerts, they have also been donating thousands of dollars to food banks in every city they've performed in during their World Wired Tour. The donations are are being made through the band's All Within My Hands Foundation.
Recently, they donated $10,000 to a food bank in Utah which will provide 30,000 meals to local residents facing hunger. The foundation is consistently donating large amounts of their ticket and merchandise sales to charities. On top of that, hey also made a $50,000 donation to benefit California wildfire victims earlier this month.