With Dozens dead and thousands missing as the California wildfires continue its hard to think that there's happiness there right now. However, when disaster hits, heroes rise. Allyn Pierce, a nurse, used his Toyota Tundra to shuttle people out of Paradise as everything around him burned in the blaze. He drove through a deadly California wildfires to help patients and colleagues escape the inferno in the town of Paradise last week.
He did this not once, but twice! After making the trips, he then made his way back to a hospital where he and his colleagues set up a triage centre to help those who remained in burning Paradise.
Pierce posted a photo of his beloved truck on social media, showing the vehicle melted and singed. Joking that it looked like the perfect campfire roasted marshmallow. Toyota caught word of the post and has offered Pierce a brand new Tundra to reward him for his selfless, heroic efforts to save those around him while risking his own life.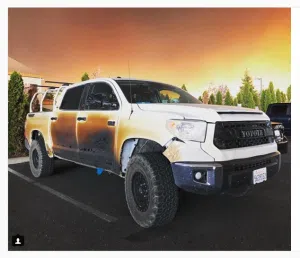 Bruno Mars is doing his part to make sure thousands of families in Hawaii have a home-cooked meal this Thanksgiving. He announced on Sunday that he plans to provide meals to 24,000 Hawaii residents in need for the upcoming holiday.
He has donated the necessary money for the food to the Salvation Army's Hawaiian and Pacific Islands Division. The division hosts an annual Thanksgiving meal program to help those who otherwise would be unable to afford a holiday dinner. Not only will the meals be available to those who attend the event, but meals will also be delivered to those who are home bound
Donations like this are not an uncommon thing for Bruno Mars. In August 2017, he surprised a Michigan crowd by announcing a $1 million donation to aid victims of the ongoing Flint water crisis. He also provided scholarships to send students to Grammy Music Camp the following month and donated to Alabama tornado relief efforts in 2011.