Experts say setting goals is important.  So do you have a dream job that you'd say you're working toward?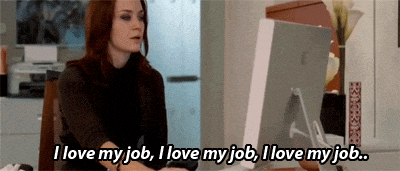 Check out this DREAM JOB!  While the pay can only be described as average, but as Confucius said, "Find a job you love and you'll never work a day in your life!"

You know how cat cafes became a thing a few years ago?  Now there's a restaurant in Dallas called Mutts Canine Cantina, and the concept is coffees, lates, sandwiches, while while a dozen dogs wander and mingle with customers and get lots of belly rubs!  When you go there all the staff are dressed in brown khakis, and they're called "BARK RANGERS".


But now Mutts Canine Cantina is looking to hire a PUP-tern!  Your job is to scour local animal shelters, looking for just the right dogs for the Cantina, plus make sure they're watered and fed and loved when there are no customers in the restaurant.
QUESTION: Are you working your dream job?  If so, what do you do?  
KJ – I love my job!  But if it were all to end, here's what Id love to do:  911 dispatch because I think this job has a lot in common with that… OR in the marketing department for a sports team!
Got something that you think we should cover on MY MORNINGS?  Email us: kim.johnston@jpbg.ca or slide into my Twitter DMs: @KimJohnston.