A pizza shop in Dublin Ireland has issued the pizza challenge and it's a BIG one but there is a big prize on the line too. While some food challenges give you a plaque, photo on the wall or maybe even a t-shirt anyone who completes their challenge will win 500 euros ($750CAD). There is of course a time limit, 32 mins. That's an inch of pizza per minute! Oh and you also have to finish 2 of their milkshakes.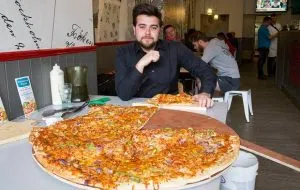 The prize has grown from 50 euros to attract more attempts as no one has been able to complete the challenge..or even come close. Over 100 people have taken the challenge but the closet anyone has come is just over half the pizza.
If you don't think you are up to the task but you have a lot of hungry friends you can order 'Ireland's Largest Pizza" to go. Sadly they do not offer it for delivery.
Oh and if you don't like anchovies you do get to pick the toppings for the challenge.
Do you know of any food challenges here in The Hat? Let me know about them (I am feeling hungry) shaun.oneill@jpbg.ca