Earlier this week McBride's Bakery decided to dish up donuts for a great cause. Literally hundreds of donuts were sold on Tuesday at the bakery with 100% of the proceeds going to the Medicine Hat Sexual Assault Response Committee, also known as SARC.
SARC provides a variety of services and programs to victims and families in the area as well as provides awareness programs dealing with health, bodily autonomy and why consent is important.
Hatters flocked to McBride's bakery and between the donut sales and donations made, a total of $3,400 raised for SARC.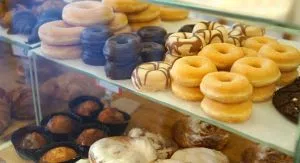 Hundreds of poppies were laid in the Field of Honour on Wednesday, each for a soldier who gave their life for our country. Students from across the city took part in the No Stone Left Alone event and saw how many soldiers have been laid to rest.
More than 700 students marched through Hillside Cemetery and met beneath the Cross of Sacrifice. The students walked through the Field of Honour, thanking each and every soldier and placing a poppy in remembrance.
No Stone Left Alone was launched in 2011 by Maureen Bianchini-Purvis, who wanted to make sure that every man and woman who made the ultimate sacrifice would never be forgotten.