If you're looking for a perfect gift for the person in your life who is always cold then look no further! I came across this while randomly clicking away on Amazon.  Keep in mind I have not tried this myself but the majority of these items have a 3.5+ star rating…
A heated blanket for the car! The 8 foot cord plugs into your lighter and can reach nearly any seat in your vehicle. And it's way cheaper than installing a remote start!
Reading the reviews though… there are a few downsides. First off, it has no on/off switch which means you have to unplug it when you're toasty or too warm. And most of the ones I saw also had no heat control so you're stuck with whatever it's set to. Personally, I'd be worried about the blanket and/or cord getting caught up and causing troubles while driving.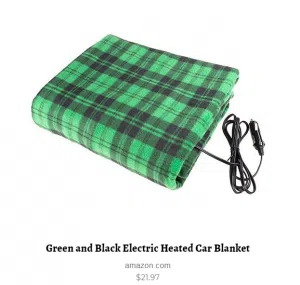 I think I'll just stick to running outside and starting my vehicle with my spare key to let things warm up!