It's not a sight you see everyday but it is something you can see annually in Oregon. This past weekend was the 3rd annual Stand Up Paddleboard Witch Paddle.
The floating coven turned heads as men and women dressed up in full witch and warlock attire paddled along the Willamette River in Portland, Oregon. Ginny Kauffman started the event two years ago after seeing a similar event take place in California, according to Oregon Live. Now they have hundreds of participants.
Even though witches are typically known for stealing kids, this event is centered around giving. Participants brought canned food, packaged socks and underwear, according to Oregon Live, all of which will be brought to clothing and low-income assistance charities, Sunshine Division and Our House in Portland.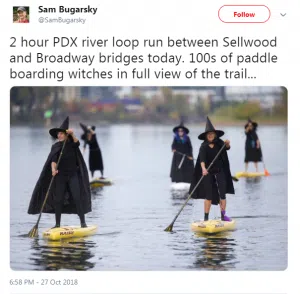 2 nurses in Edmonton spent over 30 hours creating 24 costumes for their smallest of patients. Karine and Jenny are registered nurses on the Grey Nuns Community Hospital's neonatal intermediate care unit, where premature or sick newborns can stay for weeks. Since at least 24 babies will be spending Halloween on unit 32, the crafty care staff cut, pasted and crocheted one special outfit for each of them.
Jenny said "It's scary to have your baby in the NICU. So if we can do little things like offer costumes to bring some normalcy and to just bring some happiness to families, we want to do that for them."
The costumes included animals, Mr. Potato Head, superheroes and sushi. And an adorable trio of a cookie, milk and Cookie Monster for a set of triplets.