See ya, old pal!
After 30 years of operating The Kwik-E-Mart, the world's favourite convenience store owner is about to leave The Simpsons, according to sources close to the show.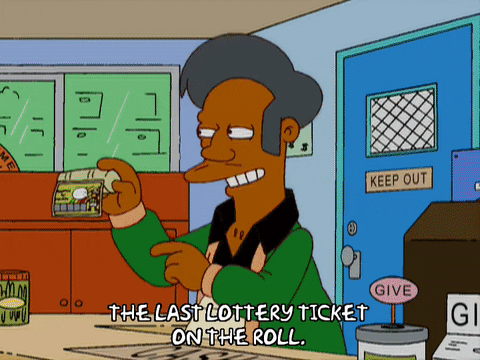 Apu Nahasapeemapetilon, was a recurring character who appeared in hundreds of episodes, and according to Hank Azaria, voice actor responsible for Apu, given the current climate, the timing is right to make the change.  "I think the most important thing is to listen to Indian people and their experience with it," Azaria said. "I really want to see Indian, South Asian writers in the writers room… including how (Apu) is voiced or not voiced. I'm perfectly willing to step aside. It just feels like the right thing to do to me."
How do you think the writers should handle the beloved characters departure?  Should he move on to a less stereotypical career and remain part of the show?  Should writers just move on and not make reference to his character any longer?  Or do you feel he's too important and needs to stay?
KJ: Man, this is sad.  I mean it's great that people are talking about being more sensitive to others and not exploiting stereotypes.  But Ive always felt that they've treated this character with respect and the audience loved what he brought to the show.  I hope writers don't simply ignore his contribution to the show… but instead give him the send off befitting of the beloved character we grew up with, liked and respected!
See ya, old friend.
Got something interesting that you think would be a great topic for MY Mornings?  HMU on Twitter (@kimjohnston) or email: kim.johnston@jpbg.ca
-K