The legalization of marijuana in Canada is finally here and Canadians everywhere are literally lining up for hours waiting to get their hands on some legal Mary Jane.
Recently Statistics Canada revealed the province that has the MOST pot smokers… and it's not B.C.!
They calculated consumption of cannabis per person per year and the winner is…. Nova Scotia with 27.06 grams. British Columbia did follow close behind though with 24.60 grams as well as Alberta with 24.08 grams.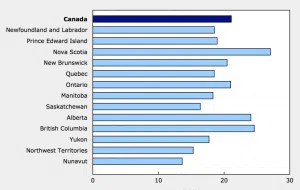 Photo: Statistics Canada
The lowest of the provinces and territories was none other than two of the territories. With Nunavut hitting 13.62 grams and the Northwest Territories at 15.30 grams.