A Panama City, Florida, Waffle House has reopened to feed victims of Hurricane Michael. The chain, which famously never closes even in the most severe weather, did close when the Category 4 hurricane made landfall last week. The Panama City location has since reopened and is using a food truck in its parking lot to hand out free food to community members.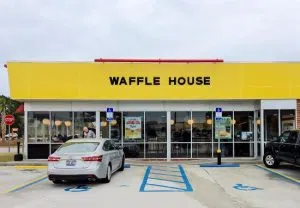 An unlikely new group of freelance employees have been added to a French workforce.At a theme park in western France, six birds have been employed to collect and dispose of garbage – mainly cigarette ends and other small pieces. As payment for their services, the birds take the collected trash to special bins where they can receive bird food in exchange for depositing the litter.
The Park President says "The park is very clean. The purpose of the crows … is to educate the people, to open their minds, to think, 'OK, the birds are able to do something that we are much more able to do than them, so we should do this by ourselves.'" In addition to inspiring humans to pick up their trash, the clever crows seem to be making a game of it to see who can collect the most!