This isn't quite your typical cops and donuts story. A Krispy Kreme donut van was reported stolen from its location in Lake City, Florida on Tuesday morning. Later in the day, police officers found the van over 300 kilometers away in Clearwater.
The store manager of the van's branch offered up the donuts to the police force as a thank you for recovering the stolen vehicle. Though the cops kept a few of the pastries for a snack, they gave the rest of the van's entire cargo to Clearwater's homeless population.
According to a post on the Clearwater Police Department's Facebook page the officers saved a few donuts to enjoy later and donated the rest to the homeless. There is a meal service to feed the homeless nightly that is adjacent to the police station.
 Photo: Clearwater Police Department Facebook Page
An 18-year-old pizzeria manager is being praised for going above and beyond the call of duty. Julie and Rich Morgan had recently been reminiscing about the legendary pies that are served up at Steve's Pizza place in Battle Creek, Michigan. It's been 25 years since the couple has lived in the city.
When they were just starting out, money was tight but they still treated themselves to a Steve's Pizza every payday. But as life went on, the couple moved and hadn't had the chance to return. Julie and Rich had recently been planning on visiting Battle Creek for her birthday – but as their vacation loomed closer, an unexpected cancer diagnosis left Rich in hospice. Instead of going on vacation, Rich went to the ER where he spent 5 days in ICU, and learned that his cancer battle was unfortunately coming to an end.
The couple was unaware of Julie's father calling the Pizzeria in hopes of someone there sending a card or calling the couple. Instead, the manager happened to answer the phone and asked what type of pizza they would like. Dalton Shaffer made 2 pepperoni pizzas for the couple and after closing the store for the night drove over 225 miles, 3.5 hours to deliver the pizzas at 230 in the morning. Despite the family offering to pay for gas and a hotel for the night, Dalton turned down the offer and said seeing their smiles and knowing he was responsible for them was enough. Plus he had to drive back because he was scheduled to work in the morning.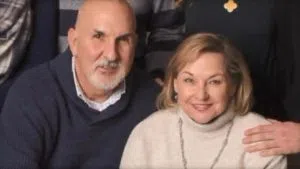 Photo: Rich and Julie Morgan