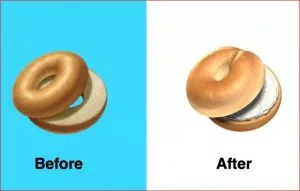 Apple is apologizing today… did you hear why? So last week they announced that a new batch of emojis are coming to your phone.  And one of the new icons coming soon to the foods section be a bagel, sliced in half.
Delish, right? But apparently in the days following, so many people have commented on various posts and message boards saying, "Seriously Apple? A PLAIN bagel? Who does that? NOBODY eats a plain bagel". And so now, when you download the next update, it's got a big GLOB of cream cheese on it! They made the bagel look more appetizing!
Question – What's something thats actually BETTER if its plain?
My kids eat spaghetti plain, which is gross. Me personally, the only donut I eat at Tims is Old Fashioned Plain.
BTW, How is it that they IMPROVE the bagel, but then they wreck the peach? It doesn't even look like a bum anymore.
-Kim Johnston