He may not have the best reputation right now but tech billionaire Elon Musk put his money where his mouth is and donated $480,000 to bring clean water to schools in Flint, Michigan. In July, Musk was called out by Twitter users to help out with the water crisis. He responded by saying he would fund fixing the water in any home below FDA standards. Now 12 schools will finally have access to clean water thanks to his donated ultraviolet filtration systems.
75 year old Terry Lauerman goes to his neighborhood shelter for cats, the Safe Haven Pet Sanctuary, in Green Bay each day and takes naps with its cats. As per Elizabeth Feldhausen, the founder of Safe Haven Pet Sanctuary, Terry walked into the shelter around a half year ago and just started brushing the cats. He never even asked to be a volunteer. So eventually they told him he was an official volunteer and had him fill out our volunteer form.
After he brushes a cat for a bit, he tends to have an hour long nap with the cats. Then wakes up and brushes another one. Terry has such a close relationship with the cats that he can now tell anyone who is looking to adopt a cat, each one's likes and dislikes.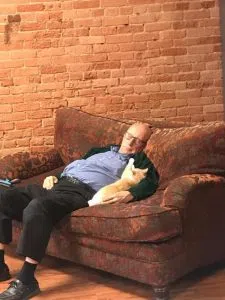 Full story here: https://www.meowgags.com/2018/09/28/this-75-year-old-man-volunteers-to-take-naps-with-cats-at-an-animal-shelter-every-day/