It's a scene that plays out nearly every single weekday at the B.C. Cancer Foundation office in Vancouver. A small, 62-year-old woman comes in the front door, shares an explosive laugh and an infectious smile, and hands over a small amount of cash. Last Friday, Gia Tran gave foundation staff a $10 bill and a toonie. In exchange, she got a handwritten receipt and a few kind words with a smile.
The small donations have added up over the 21 years Tran has been collecting bottles and cans and turning the refunds over to the charity. The B.C. Cancer Foundation only has records going back about 10 years, but staff estimates Tran has contributed about $15,000.
Runner Justin Gallegos became the first professional athlete with cerebral palsy to sign a contract with Nike. Gallegos, a junior at Oregon and member of the school's running club, was told the news at the end of a recent practice. John Douglass, Nike's insight's director, showed up to give Gallegos his contract and a film crew from Elevation was there to capture his reaction.
The video showing Gallegos' reaction to the news was released on Saturday, which was World Cerebral Palsy Day. Gallegos posted about the moment on Instagram and said: "You don't realize how realistic and emotional your dreams are until they play out before your very eyes!"
According to Running Magazine, Gallegos used a walker as a toddler and preschooler before he started physical therapy to help improve his stride. In high school, his story came to Nike's attention and he has since helped the brand develop a shoe for runners with disabilities – the FlyEase. The shoe has a zippered heel that makes it easier to get on and off.
Gallegos' dream is to break the two-hour mark in a half marathon. This past April, he completed his first half marathon in 2:03:49. He completed his second half marathon in September.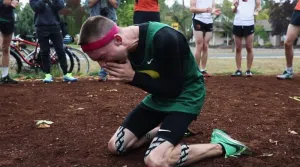 Watch the video here: https://www.youtube.com/watch?v=x4KC0nUmY4Y