It wasn't the concert trumpet solo that Lindemann was scheduled to play, but an impromptu performance on the snow cobered Trans-Canada Highway was heartily applauded by an audience of stranded motorists.
Lindemann played at a private event in Banff on Monday night and was to perform in Vancouver the following evening. But the massive snowstorm that swept through southern Alberta had traffic at a complete standstill for hours.
He spontaneously grabbed my trumpet and started playing some Dixieland tunes and the fellowe travellers loved it. he said. "It became kind of a mini jam session out there." Lindemann has played major concert venues around the world, performed for the Queen and received Grammy and Juno nominations. He grew up in Edmonton, but has lived in Los Angeles for the past 18 years. He said his Alberta upbringing came in handy.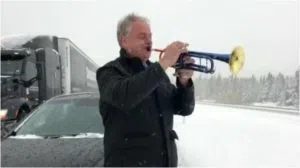 Source: https://www.cbc.ca/news
"Friendship" may not technically be in the security guard job description, but that hasn't stopped Officer Ronald Saladin from becoming besties 6 year-old Braylon Henson. Who became best friends with School Resource Officer Ronald Saladin because of his genetic disorder.
The Alabama first grader suffers with a condition where he born without sweat glands. Braylon cannot go outside if the temperature is above 23 degrees Celsius because he may overheat. So while all of his classmates were outside enjoying recess, Braylon had to stay inside.
When Saladin saw Braylon sitting by himself, however, he asked the youngster if he would like to patrol the school with him – and they have been best buds ever since. Saladin even bought Braylon a little police officer's uniform so he could look the part for their walks through the school together. Saladin said "He felt left out, and I didn't want him to feel left out. His mom was afraid he was going to get picked on and bullied when he came to school. It's definitely a blessing, like it was meant to be."
Source: https://www.wkrg.com/news/