You know wh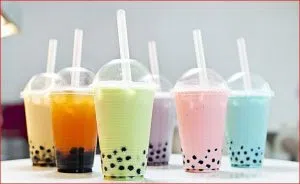 at product needs to change its name because… it really is false advertising? BUBBLE TEA.
There's a place in the mall now that serves bubble tea, and Ive heard people talk about how delish it is, and how I should try it…

and I thought, 'Why not!' I mean, I don't really drink much soda anymore, but nothing wrong with rewarding myself, right? So I order a 

"Bubble tea… strawberry please!"
"Great choice", she says.
And a minute later hands me this milkshake looking thing.
"Uhhh, sorry you must not have heard me correct. I said Strawberry Bubble Tea. You know, like strawberry flavoured iced tea that's carbonated?"
She shoots be the strangest look, almost as if I was joking, which I wasn't…

She then explains to me that this IS bubble tea and I'm the one who was clueless… so now I know what bubble tea is, but is anyone else just kind of stumped why its called that? There's nothing tea-like about it at all!
'Big straw-big tapioca-fruity milkshake' would probably be a bit more accurate, no?
-Kim Johnston
Start your day with KJ & NIC, weekdays on MY96FM
96.1 Medicine Hat/100.9 Maple Creek
Radio Player Canada and the MY96 app