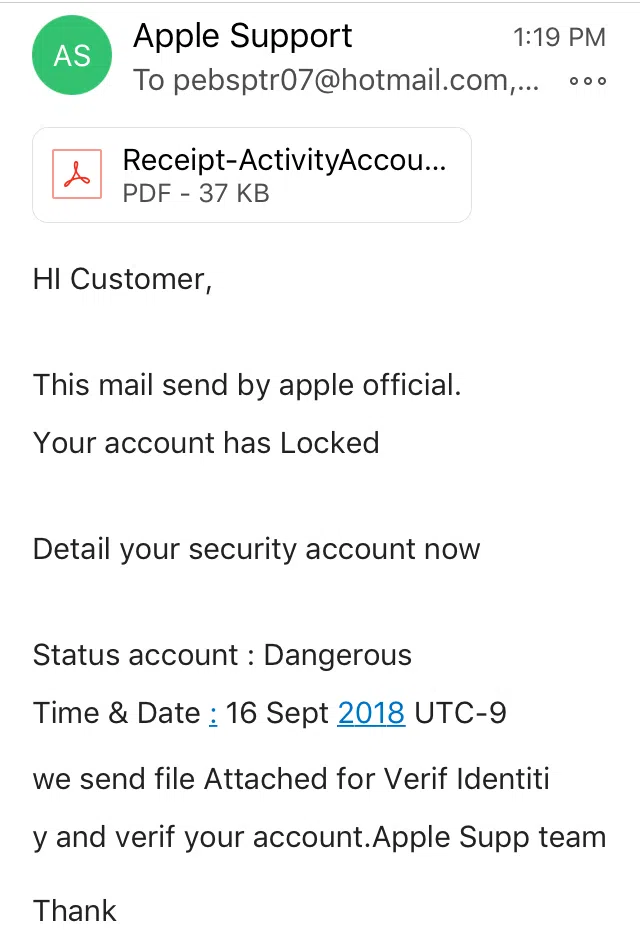 I'm no cyber security expert but I am pretty confident in saying I am going to put this on in the spam folder. But just in case you have your doubts lets break it down
1 – To begin with that's not even my email address so I have no idea how I ended up with this one.
2 – I would like to think that if apple knows where I am every second of the day they would know my name, at least my first name
3 – Here is where they almost got me…"sent by apple official" I mean they wouldn't lie about that. It certainly sounds official and if my account Locked I best do something about it
4 – Detail my security account…I don't even know how..okay maybe now I am worried about the status of my account
5 – WHOA I should have been worried…Dangerous is not good!
6 – Oh well the time and date seem to be accurate so maybe it's all true…
7 – Right I am off to Verif both my account and my identity…don't tell our IT guy I am downloading the file
8 – Now apple consider themselves a pretty 'cool' company but I am pretty sure not even they would go as far as to call their support..Apple Supp!
9 – Thank! Thank who? Me? Siri?
Now just in case you were wondering..no I did not download the file, I did not Verif my indentit   y but I have decided to simply end any of my emails with…..
Thank